And Now the Children are Properly Socialized
This year, our homeschool group is hosting a new thing – social events designed for teenagers. Today is our first experience with such a beast, and I am happy to report that it was a success! I'm glad it went well, and excited see how this new thing plays out over the year to come.
One thing that seems to be a theme among homeschool groups is phasing out as the kids get older. The population of kids still homeschooling through middle school dwindles, and dwindles even more as they get into high school. I definitely believe in and advocate that you should do what works best for your family in any given school year, but when your family is homeschooling long-term, social time does become harder to arrange as the kids get older. Most homeschool groups seem to be saturated with little kids* – pre-schoolers through upper elementary school, which is great, but can leave older kids feeling a little out of place.
I have noticed that some groups try to arrange social events for teens, which is fantastic. My kids have thus far been too young to participate (or too immature, maybe), so I haven't been involved in them before, but now that they're older, I have found that even the groups that do organize with older kids in mind aren't doing things that my geeky kids are interested in.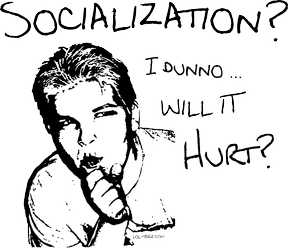 This year (and last), we've had more older kids joining our group, so we decided to get them involved and see what they'd like to do. Today's event was a meet up for froyo (frozen yogurt, if you're not in the know). Kids had fun just sitting at their own table, chatting and catching up.
After talking with some of the other moms, it seems that they're all in an 'anti-social' phase – where getting dressed and out of the house sounds like more effort than it's worth just to hang out with a few friends. It's reassuring to know that it's not just my kids; it's an age thing (apparently), and not restricted to boys – girls go through it, too.
In any case, we did successfully socialize the kids today, and have plans for the next few months.
I was going to go into a whole post on homeschooling and socialization, but I just don't have it in me right now. Our group calendar (and our personal one) is completely full of lessons, activities, classes, volunteering, community service, work, and play from now through the end of the year. Maybe when my kids are grown, I'll have more time to address the social misconceptions of homeschooling, but for now, I'm ready for some mindless internet fun.
Have a great weekend!
Warmly,
~h
4 responses